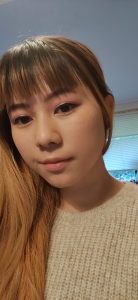 Hello I'm Dea Desideria, you can call me Dee!
I recently graduated from The Arts University Bournemouth with a BA Hons Degree in Makeup for Media and Performance. 
I first met Beth when I was in my final year of university. She came to a talk about her business as part of a university business workshop. We got connected and have been collaborating since then. 
I'm originally from Indonesia and I came to UK in 2016. I have my own YouTube channel www.youtube.com/bydeadesideria and I have been a content creator since 2015. I'm planning to make the UK my home and become an international make-up artist, specialising in Film and TV. I'm developing my own prosthetic and makeup company called @desired.fx .
I have always loved performing arts. When I was little I joined a performance course that included acting, modelling and dancing. My dream was to become an actress. I performed on the stage and became a dubber when I was in elementary school. That was the first time I did my own makeup. I continued performing as a dancer and traditional dancer until high school.
When I was 15, my parents then asked me what I wanted to do, in the future, as a career.  I found a content creator called Michelle Phan on YouTube. She explored different kinds of looks and she looked very happy. Then I learned about special effect makeup on my own and with my own pocket money bought some supplies.. The industry in Indonesia for special effect makeup is not big. In 2015, I decided to make my own YouTube channel, to practice makeup and to prove to my parents that I really want to make it my career. 
I joined the beauty community in Indonesia, mentoring special effect makeup in one of the events. After my parents saw my effort, they agreed to help me get onto a bridal makeup & hair course. I started my career as a makeup artist at 17 years old. Then I finally got accepted to AUB. 
The next thing I needed to think of is where I wanted to stay after graduation. I want to become an international makeup artist; so during university I collaborated with more than thirty projects! I also became a makeup assistant back in Indonesia for two horror movies, called Blood Lust Beauty and Potato House. 
I decided to find a way to stay longer in the UK and because of covid-19, the idea for my company, DESIRED.FX (instagram: www.instagram.com/desired.fx) came up. To help the industry come back by little physical contact to the actors.
I learned that we will always learn from our experiences and turn the hardship into opportunity.
I still need to learn and I will learn everyday.
I am currently interning at The Beauty Umbrella as content marketer. I hope the content will be helpful, informative and fun!
Thanks,
Dee
x
more about me:
@deadesideria