Makeup Lessons via Facetime
Ever tried learning how to do your makeup from a YouTube tutorial or a short Instagram video but it didn't go very well? I have a degree in makeup for media and performance and have spent years working on makeup counters practicing on many different faces. One YouTube makeup tutorial can't even begin to cover all the different skin types and face shapes, so no wonder they can be tricky to follow, and viewers end up with varying results.
By having a makeup lesson one to one, I will tailor your experience entirely to your needs, preferences and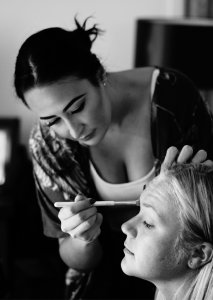 budget. Some of the additional benefits…
Makeup lesson from the comfort of your own home; nothing is more intimidating than trying to learn a new skill in the middle of a department store.
Facetime, What's App video chat, Skype, whatever method suits you!
Learn how to use all the makeup you already have; no pressure to buy all the products you've been shown.
Unbiased product recommendations; I don't work for a brand, so I can give impartial advice.
Need the kids in bed before you can get any time to yourself? Book in for whatever time suits you!
Receive a summary of your lesson in note form to carry on practicing by yourself.
Get in touch via my website with you details and we can get you booked in for a time and date that suits us both. Following that I can send you a 'you will need' list so you can prepare to make the most out of your lesson.
Testimonials
"Really good tuition, Beth didn't make me feel silly asking questions. I will definitely be booking in a personal shopping session now! – Sarah Pateman
"About a year ago I approached Beth to help me with an online tutorial as I was going to be a bridesmaid and wanted to do my own makeup. The tutorial was beyond amazing and incredibly helpful. I have since been a bridesmaid a further two times! Each time I use my notes provided by Beth and each time I receive compliments on my makeup. I have recently approached Beth for another tutorial for a certain eye shadow look I am trying to achieve and I'm beyond excited for my lesson. I cannot recommend her and her service enough she is absolutely brilliant!"  – Kimberly Pearson
"I learnt brush techniques, product knowledge and angles. Overall, very informative and I feel a lot more confident using more makeup now! I've already booked Beth to do a one to one session before my Christmas Party."- Joanne Christie
1 hour One to one lesson: you come to me £40.00
1 hour One to one lesson: I come to you £35.00
1 hour FaceTime/ Whatsapp Video £30.00
Please send me a message on my contact page to book or enquire about any of these lessons.